PTO - Through-drive motor for open and closed circuit operation
In conventional drives the torque of the hydraulic motor can be transmitted to the cardan shaft only by means of a dropbox. For further optimization of the drive train Linde Hydraulics developed the PTO Through-Drive Motor. Based on the standard hydraulic motor of the Series 02 with just one shaft end, the PTO Through-Drive Motor offers two shaft ends to transmit the torque. Hence the machine designer can conceive the hydraulic motor to fit directly and immediately into the drive train thus saving mounting space. The dropbox usually needed in a conventional propulsion drive can be saved. This reduces both noise emission and fabrication cost of the entire vehicle while overall efficiency increases.
As all Linde motors they are able to provide the required torque even at low speeds and make it possible to start smoothly and sensitively.Therefore, additional gear ratios for rpm reduction are not necessary. This reduces the amout of parts going into the component and also increases the overall mechanical efficiency, minimizes windage losses as well as the noize level of the machine.
The HMV-02D double axial piston hydraulic motor is with a shaft flange also PTO-capable.
Advantages
Two shaft-ends
Drop-box eliminated
Smaller cooler
Simplified drive line design (components, part numbers)
Fits directly into the drive line
No interruption of tractive effort, stepless driving
Increased tractive effort / direct drive
Improved transmission efficiency
Lower overall cost
Less fuel consumption
Reduced noise emissions
Technical Data
| HMV-02 PTO | | 105 | 135 | 165 | 210 | 280 |
| --- | --- | --- | --- | --- | --- | --- |
| Max. displacement | cc/rev | 105 | 135.6 | 165.6 | 210 | 281.9 |
| Max. operating speed at Vmax | rpm | 3700 | 3200 | 3100 | 2700 | 2400 |
| Max. speed at Vmax* | rpm | 3800 | 3500 | 3400 | 3000 | 2700 |
| Max. operating speed at Vmin | rpm | 4100 | 3700 | 3500 | 3200 | 2900 |
| Max. speed Vmin* | rpm | 4700 | 4000 | 3900 | 3500 | 3200 |
| Nominal pressure | bar | 450 | 450 | 450 | 450 | 450 |
| Max. pressure** | bar | 500 | 500 | 500 | 500 | 500 |
| Max. housing pressure | bar | 2.5 | 2.5 | 2.5 | 2.5 | 2.5 |
| Output torque ( p=430 bar and Vmax) | Nm | 719 | 928 | 1133 | 1438 | 1929 |
| Corner power (theor.)*** | kW | 309 | 360 | 415 | 482 | 586 |
| Weight approx. (without oil) | kg | 42 | 56 | 76 | 101 | 146 |
* highest transient speed, that can temporarily occur
** highest transient pressure, that can temporarily occur
*** (Vmax x nmax at Vmin x ∆p 430 bar)
Sectional View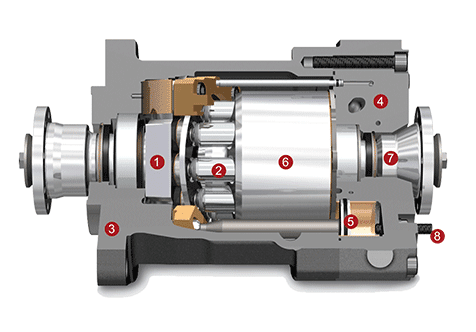 1

swash plate: hydrostatic bearing
2

piston-slipper assembly: 21° swash angle
3

housing: one-piece design for high rigidity
4

valve plate housing: highly integrated
5

two control pistons: servo-controlled swash plate
6

rotating group: continuous torque transmission from 0 rpm to max. rpm
7

through-drive: second shaft end for torque transmission
8

displacement setting from 55 to 280 cm³/rpm