19. September 2017
Linde Hydraulics introduces the next generation of bent axis motors
Variable displacement and fixed displacement motors with standardized interfaces for both open and closed circuits
Wide range of application possibilities for agricultural and construction machinery
Swash plate motors from preceding portfolio now complemented by motors with bent axis technology
Hydraulic motors with bent axis design as successor to the BMV models
Linde Hydraulics GmbH and Co. KG presents the new generation of bent axis motors at Agritechnica 2017, thus continuing its tradition in this motor segment. The new bent axis motors – the variable displacement motors (CMV) and fixed displacement motors (CMF) – are characterised by their high power density and speed capability. Renown for use in agricultural and construction machinery, the bent axis motor utilizes standardized interfaces, which can be quickly and easily integrated into existing systems without the need for adaptors. Both motor types are available as standard and plug-in versions. They can therefore also be used in confined spaces. In addition, the new products enable a more cost effective operation of the respective applications thanks to low windage losses and lighter weight.
"The new generation of Linde Hydraulics bent axis motors complements our customer-oriented portfolio of mobile hydraulic systems perfectly and fulfils the numerous customer requests to continue the tradition of our BMV series," said Janfried A. Tirre, CSO of Linde Hydraulics, during the presentation of the new models.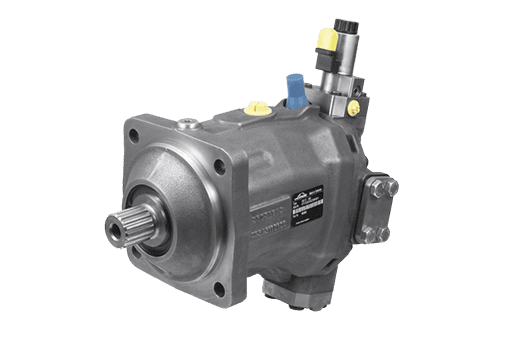 The CMV and CMF motors succeed the bent axis motor (BMV), which Linde introduced to the market in the early 1960s. The two bent axis motors complement the Linde Hydraulic swash plate motors offered in a range of displacement sizes from 55cc to 280cc. With high-speed capacity up to 7200 rpm, the new motors with displacement sizes ranging between 60cc and 215cc offer a nominal pressure of 450 bar and a maximum pressure of 500 bar. The first available displacement sizes will be the CMF80 fixed displacement motor with 80cc and the CMV115 variable speed motor with 115cc, accompanied by electro-proportional controls.
The CMF bent axis motor is suitable for agricultural machinery such as combine harvesters and feed mixers. In use with construction machinery, CMF motor can be applied on wheeled excavators, single-drum compactors and winch drives for a variety of cranes. The CMV bent axis motor is also suitable for agricultural machinery, such as field sprayers, beet and sugar cane harvesters, as well as logging and stacking machines. The CMV motor is also applicable on construction machinery such wheel loaders, road rollers, pavers and drilling equipment.
About Linde Hydraulics