9. December 2020
Linde Hydraulics at bauma China – a Review
2020 has been an uncertain year for everyone and especially for trade fairs. 
Therefore, we are more than happy that we were able to exhibit at bauma China 2020 from November 24 to 27.
bauma China, the International Trade Fair for Construction Machinery, Building Material Machines, Mining Machines and Construction Vehicles, takes place in Shanghai every two years. With more than 212,500 visitors and 3,350 exhibitors bauma China is the largest and most important industry event in Asia.

At baumaChina, we have been presenting new products for open and closed circuit operations.
Let us summarize the main innovations now:
Main focus on our booth – System solution for tracked excavators:
This new system follows the positive control system and manages all important working and travel functions of tracked excavators.
The hardware by Linde Hydraulics includes a dual circuit pump with electro proportional displacement control, a 7-section directional control valve block and a fixed displacement motor and gearbox for the slew drive. The required oil flow is provided For all work functions (boom, stick, bucket and swing plus 2 x propel and one optional function).
The ECU in the system ensures an electronic control system for a highly efficient over all application, by only using as much or little energy as required by the operator. Fuel savings of up to 15% per bucket can be achieved. The durable Linde Hydraulics design ensures trouble free reliable operation without any unplanned downtime.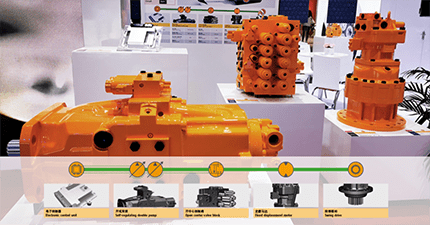 Second highlight on the fair – the new MPR:
We are proud to also have presented our MPR to the global hydraulic audience at baumaChina2020. Paving the way for a new generation of medium pressure pumps, the MPR85 is the first representative of its kind. The new range of pumps significantly expand our product portfolio of open circuit solutions.
Featuring excellent suction performance and standardized interfaces, the nominal size 85 is particularly suitable for all medium pressure load sensing applications and functions. Steering supply of larger wheel loaders is just one example.
Stay tuned – More information will follow shortly!
Last but not least – Our Bent Axis motors:
A further highlight of the show was the family of bent axis motors which is being expanded once again when it comes to displacement sizes and will thus cover an even wider range of applications. Regardless of whether you need small or large sizes, variable or fixed displacements and plug-in or standard flanges: We have a wide range of bent axis motors for open and closed circuits with displacements from 60 to 215cc.
Thanks to all customers and partners who have visited the trade fair, despite the pandemic. baumaChina is always a highlight and this year it surely was again!
And since pictures usually say more than a thousand words, here are some pictures of our baumaChina attendance.
See you again in 2022!